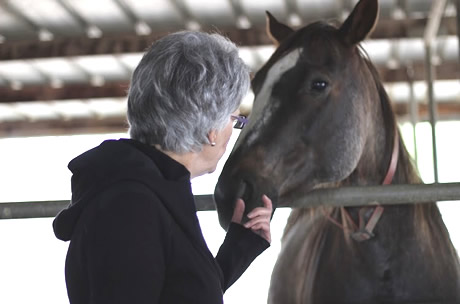 The story of Maria and Axle shows the power of connection. A quiet woman who was an advocate for the underserved until she was forced to retire because of the effects of her dementia, Maria slowly walked toward the barn with her care partner. Axle, a large bay horse popped his head over the stall door to greet the strangers.
As Maria approached this horse at least 10 times her weight, he looked at her, she looked at him. The facilitator, trained in Connected Horse's unique way to build on the power of the human-horse connection, brought them closer. Only a few steps each and they were face to face, when Axle slowly leaned sideways to rest his head on Maria's shoulder, and breathed.
It was silent. She was motionless. And then, she smiled and for that moment it was okay that she can no longer speak. Pure joy filled the barn.